Geographical imaginations. Landscapes and narratives.
© all rights reserved | 2022 | Antonio La Grotta
photography | archival print/Hahnemuhle Paper | photographies variable size | vintage photography + documents + postcard 10x15cm | edition of 3 | 2017 - ongoing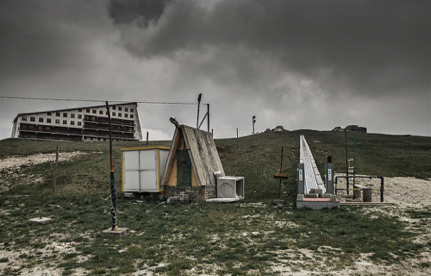 The scientific and political debate around the Alpine landscape has long been dominated by a conservative approach, based on a definition of landscape predominantly intended as a natural environment, on the concept of wilderness understood as "state of nature" to be preserved and if possible to restore , on a nostalgic and romantic attitude towards the mountain, steeped in purely aesthetic values.
In more recent times, the idea has emerged that the Alpine landscape is a constructed landscape, resulting from the age-old relationship of man with the mountain, and that therefore its naturalness is largely illusory, that is, derives from a long process of adaptation, transformtion, anthropization. (Antonio Massarutto)
These different landscapes document, as a consequence of the different economic forms,the cultural diversity of the regions of the Alpine arc and are now considered, together with the housing and settlement forms, cultural heritage. And it is precisely the anthropic landscapes and their contrast with the natural landscapes remaining in the Alps that determine the attractiveness of the Alps and which represent an essential basis for tourism and for the various local economic ativities in the Alps.
Tourism, after having known phases of spectacular development, seems to show after the 80s the first signs of regression, which are accompanied by phenomena of a certain difficulty in affirming some areas, born on traditional models of hard tourism.
The territory transformed for tourism purposes (ski slopes, ski lifts, parking lots, restaurants and hotels), together with the expansion of housing settlements, road structures, construction of electric transport lines, often cause an aesthetic change of the landscape that can arrive to the loss of the typical anthropic or natural character up to standardize the different mountain areas in a single anonymous cultural landscape of contiunuous degradation.